We're continuing a tradition
For hundreds of years, to increase their income, small Arran communities made their own spirit in illicit home-made stills. The resulting whisky, which became known as 'Arran Waters', was smuggled from Lagg and sold on mainland Scotland.
We're thrilled to be reviving Lagg's heritage - although we're doing it legally, of course!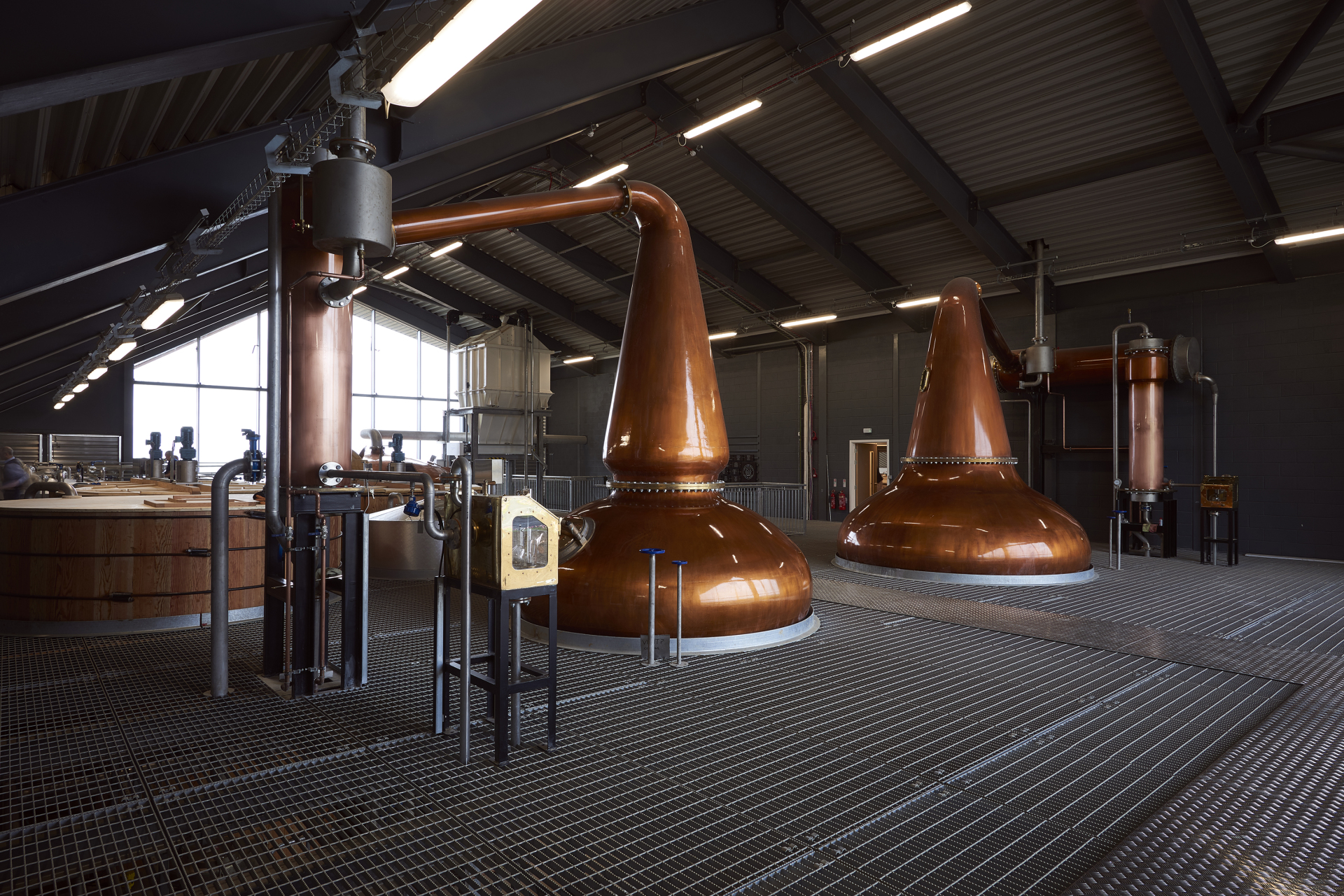 A new home for a new distillery
In 2017, we began building our distillery and its magnificent visitor centre. Two years later, we opened our doors to the waiting world.
Our architects have created a spectacular building to echo the contours of Arran as you'd see it from Ailsa Craig.
Its dramatic roofs are covered with a sedum blanket. This contains a mix of plants that change colour with the seasons.
Our custom-made copper pot stills were installed on the distillery floor in August 2018, and now sit proudly alongside our mash tun and four traditional wooden washbacks.
The first middle cut of spirit was recorded at 14.35 on Tuesday 19th March 2019.
The process is age-old, the spirit is new
We use four ingredients to produce our distinctive whisky; water, barley, yeast - and peat smoke.
We select the best barley which is then 'malted' for us. This allows germination to start.
The malted barley is then dried in a kiln of burning peat. The peat 'reek' adds phenols that create our spirit's rich, smoky flavour.
Once dry, the barley is milled into 'grist' which we 'mash' in hot water to release the sugars. We wash the sugars and natural enzymes from the spent grist to form the 'wort'.
We add yeast to encourage fermentation.
This process converts the sugars into an alcoholic liquid called 'wash'. We distil this 'wash' twice to produce raw spirit.
The Lagg spirit produced needs to be matured in an oak cask for a minimum of three years and a day before it can legally be bottled as Lagg Single Malt Scotch Whisky.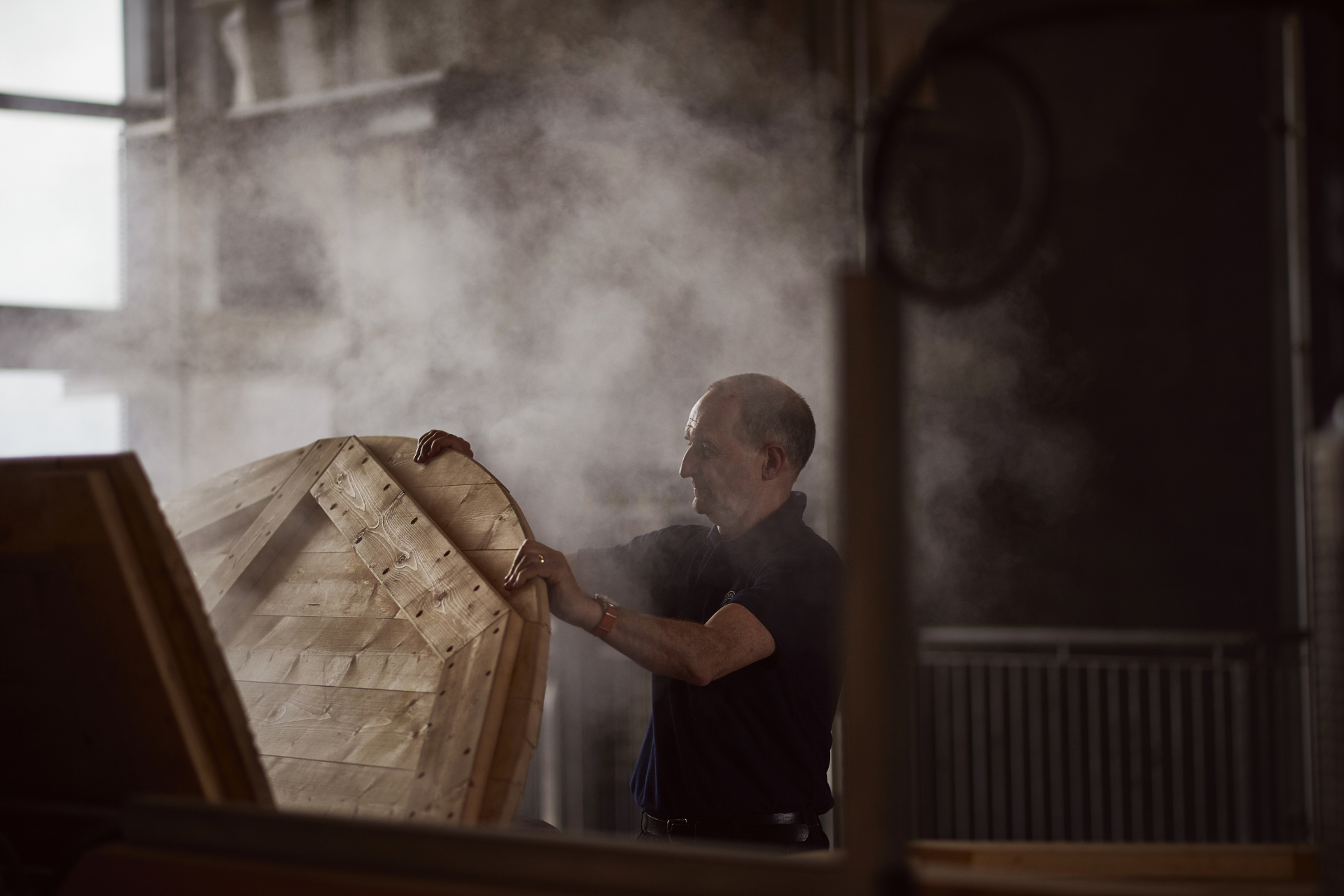 Lagg Digs Deeper
We plan to conduct investigations into the effects on our whisky of peat sourced from different origins, of the distinctive phenols they produce and of the various types of cask we use to mature our spirit.
Discover more about our home and our spirit
Tour our distillery and see how we're working to bring a contemporary style to traditional methods of producing peated whisky on Arran.
Book a Tour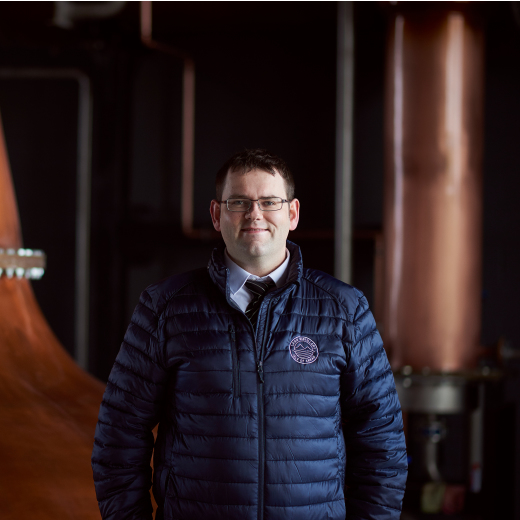 Graham Omand
Distillery Manager
Graham developed and refined many of his skills up in Lochranza before taking the reins of our brand new distillery. He is well prepared and qualified to oversee the production of our rich, earthy, peated Lagg Single Malt.