Stir Fryday Chinese Takeaway Pop Up!
LAGG DISTILLERY CHINESE TAKE-OUT
5-8pm FRIDAY 9th & 23rd of October and 6th of November.
After our fantastic Lagg Fried Chicken nights last month, we are delighted to present to you the latest in our themed pop up takeaway Friday nights at Lagg Distillery. This time we are transporting you to the other side of the world to China with some takeout favourites! We proudly present Stir Fryday, freshly prepared by our very own talented team!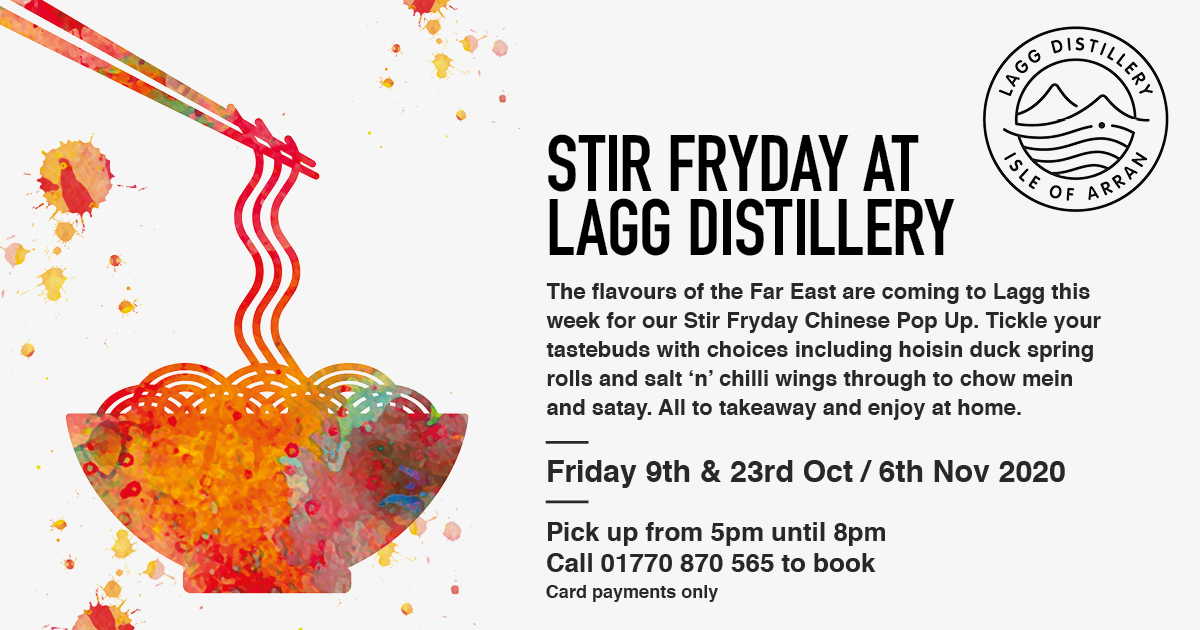 Snacks and sides
Hoisin duck spring rolls x 2 £5
Salt n chilli chicken wings x 5 £5
Crispy seaweed £3
Prawn crackers £2
Salt n chilli chips £4
Chips £3
Chinese curry sauce £3
Fried rice £4
Chicken noodle soup £4
Sweet and sour chicken nugget £5
Mains (not inclusive of rice or fries)
Chinese chicken curry £7
Beef in black bean sauce with green peppers £9
Chow Mein with chicken, beef or chestnut mushroom £8
Kung pao chicken. £8
Crispy chilli beef £9
Sweet and sour chicken £7
Chicken fried rice. £7
Chicken, beef, or chestnut mushroom satay £8
You can make a booking by calling the distillery on 01770 870 565 and asking to place your order for the Chinese Stir Fryday Pop Up. Spaces are limited and this is bound to be popular so make sure you get your booking in quick!
Pick up from 5pm until 8pm. Slots will be allocated when the booking is made and we will only be able to accept card payments please.
Your Friday night culinary adventure continues!