BLOG SERIES IV - Copper Pot Stills and Mash Tun
The stills at Lagg Distillery were custom made and delivered by producer Forsyth's to the Lagg Distillery site on Friday 31st August 2018.
There are two custom made copper stills used in production at Lagg Distillery:
One wash still, in the shape of a bulbous onion, with a capacity of 10,000 litres
One spirit still, in the shape of a lamp glass, with a capacity of 7,000 litres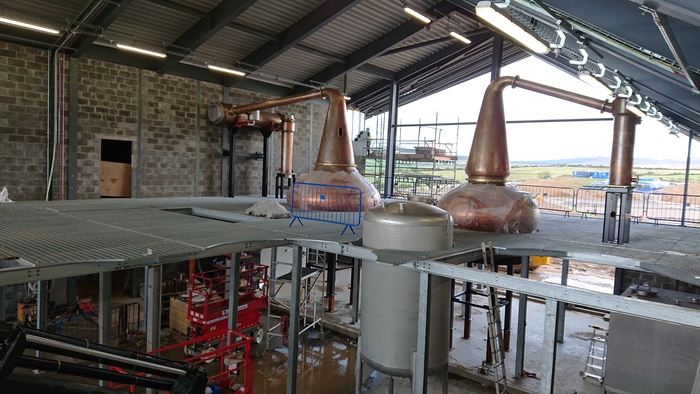 Our copper pot stills were designed with a heavier, earthier spirit in mind, perfect for a heavily peated malt.
Speaking on their delivery James MacTaggart, now Director of Production & Operations at Isle of Arran Distillers said: "Today we've reached a milestone because at the heart of every distillery are the stills. They've been designed with a meatier, heavier spirit in mind because we're producing a 50PPM peated spirit…the production level of alcohol for the first year is expected to be around 200,000 litres of alcohol".
Following the arrival of the copper stills, the mash tun was also delivered at the beginning of September 2018. At Lagg Distillery we use a concerto malt to form the grist used for 'mashing-in'. Our semi-lauter Mash Tun uses 4 tonnes of grist per mash.
The Mash Tun produces a cloudy wort which is then moved to the washbacks to begin fermentation.
If you would like to learn more about the production process at Lagg Distillery, you can read more about it in Andy Bell's Geek Desk Series:
Part 1 - Click here
Part 2 – Coming Soon!
Join us next week to find out more about the construction of our washbacks and their part in our production process…