Whisky & Golf
What do you think about when you think about Scotland?
For such a small country the Bonnie Land has much to offer: breathtaking landscapes that stretch from the rugged highlands to the rolling lowlands, a strong history echoed in castles and battlegrounds, outstanding art and innovation, great quality food and much more. Two of the biggest Scottish icons that come to mind are Whisky and Golf. They go hand in hand like inseparable friends and one can often increase in quality when enjoyed with the other.
It's not surprising that they share a common vintage. Despite its ancient origins, the modern game of golf as we know it originated in the 15th century in Scotland. And in 1494, Friar John Cor from Lindores Abbey received a letter from the King asking him "to make aqua vitae" with malt – the very first reference of uisgue-beatha (later anglicised as whisky) and distillation of malted cereals. Another unmissable and wonderful mutual aspect of these activities is obviously nature and landscape. Imagine enjoying a dram of a local Single Malt, pausing on the fairway to admire a dramatic open sky with a colourful sunset over rough green cliffs. Who wouldn't be into that? No one can guarantee that the god of good weather will be in your favour but you can rest assured that, even on the most miserable dreich days, there will always be a dram waiting for you near the fireplace when you get back. Both golf and whisky are synonymous with friendship, and this is why both these experiences are so much improved if enjoyed together. Pouring two glasses of your favourite, meeting on a Sunday afternoon in the green field with your loved ones, with a colleague, with your best friends, just shows how wonderful it is to be able to connect and share these passions.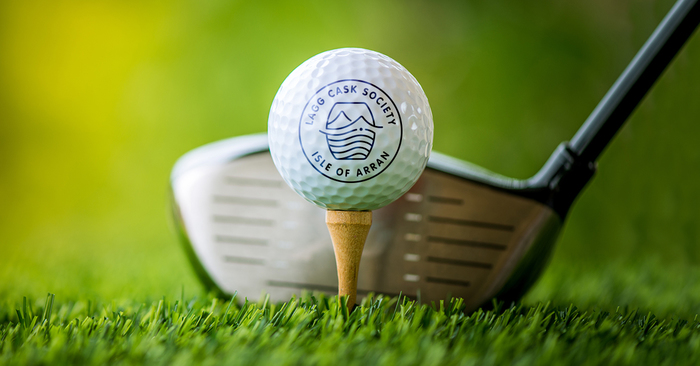 Here on Arran, we believe that golf and whisky are the perfect pairing so we have decided to include a special gift in our Lagg Cask Society Membership. Amongst many other benefits, as soon as you become a Lagg Cask Owner you will also receive an Arran Golf Pass, entitling you to one round of golf in each of Isle of Arran's seven golf courses. You could travel to the northern side, passing the mountains to reach Lochranza Golf Course where you will be welcomed by our sister distillery, surrounded by stags and eagles with a fantastic view over to Lochranza Castle in the bay. Going south, you could stop by Corrie and Brodick Golf Course if you fancy a game with the majestic peak of Goatfell over your shoulders. Lamlash and Whiting Bay Golf Courses offer an up-close look at the Holy Isle gently floating above the green valley. Making for the east coast, make sure you stop by our distillery for a coffee and a scone. On a clear day, Northern Ireland should be visible, together with Ailsa Craig and Campbeltown. If you like what you see, then Machrie Bay and Shiskine Golf Courses are for you – playing around the coastline that overlooks the Kilbrannan Sound and the Mull of Kintyre, with standing stones and King's Caves a few steps away.
Join our Lagg Cask Society today, become a proud cask owner, golf your way around the island and discover your own memorable experience!