Cook along with us!
WHITE STAG DINNER

As promised, we are now sharing the bespoke menu that our Lagg team created just for you and paired it with Lagg Distillery Exclusives whiskies too. You can find video instructions and recipes below so that you can source the right ingredients (and drams!). Realistically, sitting down next to friends and having a tasty meal with great drink accompaniment is a much better plan but do hope you will try to create these courses at home with us!

Play the video here on YouTube

Smoked carrot lox with cucumber gel and a silken tofu lemon spread paired with Small Batch Rum Cask Finish 57.2%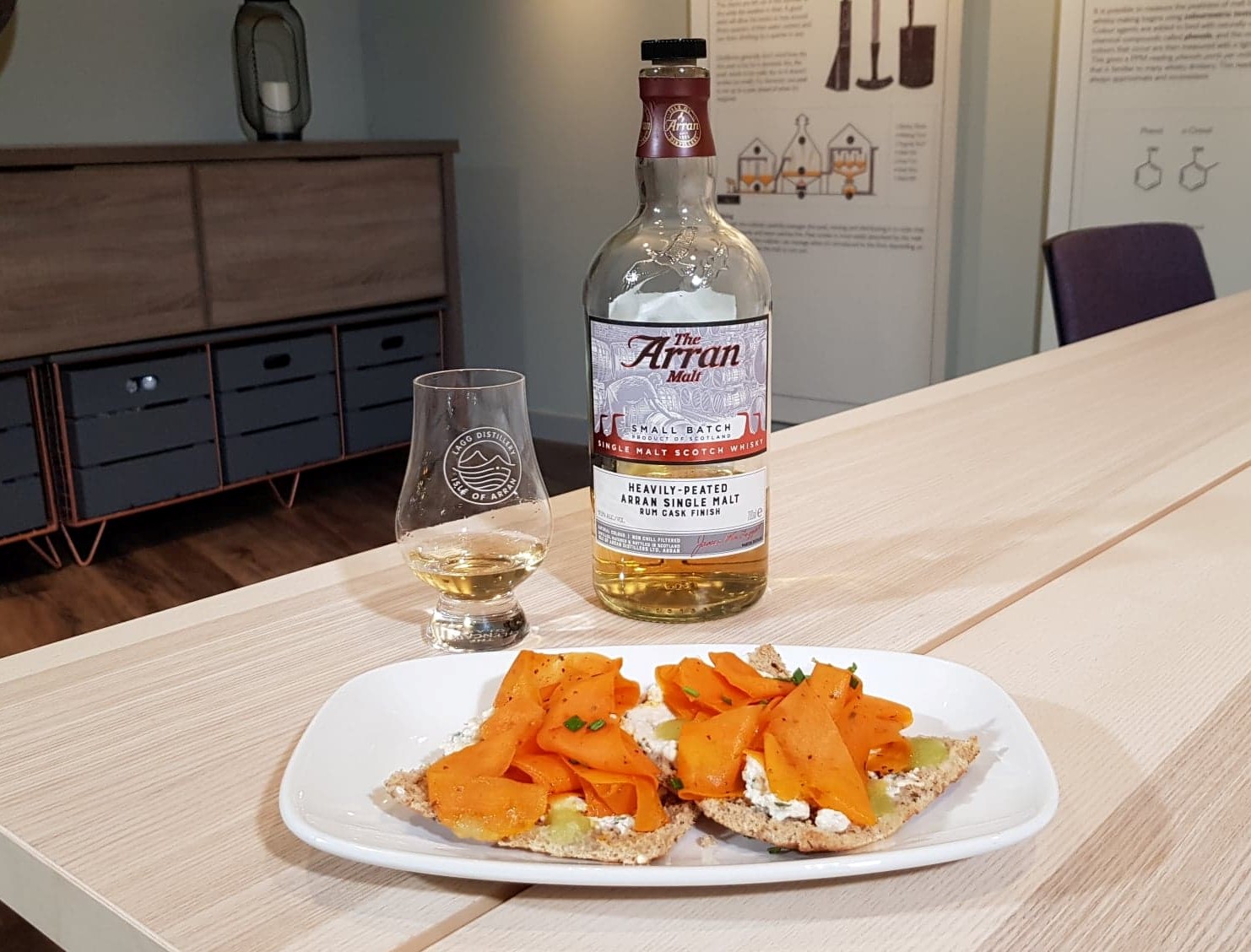 Ingredients
1 kg of carrots peeled
1 tsp Seaweed powder
½ tsp Smoked paprika
Pinch of salt
1tsp caster sugar
Lemon wedge
25ml of Smoked oil
Cucumbers
Vinegar
Salt
Water
1 packet silken Tofu
Preserved lemon
Method for carrot lox
Peel the carrots into lox using a peeler. Try to keep them as wide as possible as this will impact the look of the final dish.
Place the carrots in a shallow dish and add all ingredients apart from the lemon. Cover with greaseproof paper and tinfoil. Bake in an oven at 180c for 12 to 15 mins. Remove and keep covered for 5 mins. Uncover and squeeze the lemon juice over it. Refrigerate before serving.

Method for sweet pickled cucumber gel
Same amount of sugar, vinegar and water in a bowl. Slice the cucumbers and leave them in the bowl overnight. The morning after, take the cucumbers out and blitz them, put the resulting gel in the fridge.

Method for silken tofu lemon spread
Add silken tofu to a blender with a pinch of salt and blitz to a paste. Add then 1/8th of a preserved lemon flesh chopped (pith removed), combine all ingredients.

Garnish
Very finely chopped chives.

To serve
On a piece of melba toast.
Rabbit Bridie paired with Fingal's Cut Sherry Cask Finish 54.5%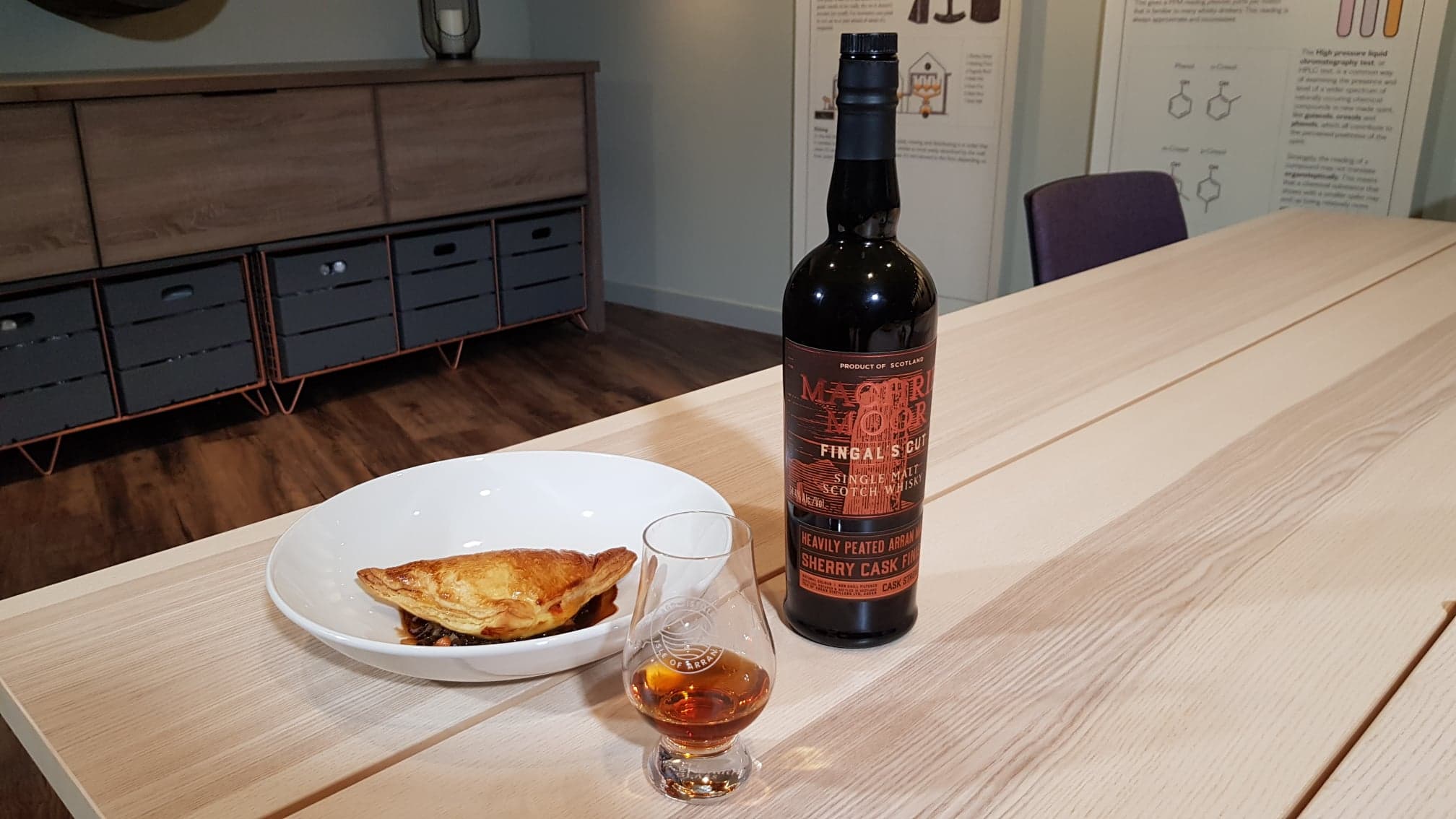 Ingredients
500g carrots
500g celery
500g onion
4 cloves peeled garlic
20g rosemary
20g thyme
20g marjoram
300g puy lentils (soaked overnight)
1 sheet puff pastry
Whole rabbit
1 tin chopped tomato
250ml red wine
1lt chicken stock
Method
Begin by breaking down the rabbit to its legs, ribs and shoulders. Then finely dice onions, carrots and celery. To start the ragout sauté carrots, celery and onions in a heavy based pan, add the rabbit to the vegetables along with garlic, rosemary and thyme. Colour and seal the rabbit in the pan along with the vegetables and herbs. Add the red wine and tomatoes and simmer for 2hrs. Afterwards pick meat from bones and add ragout to the rabbit, set aside
Next for the braised lentils take half of the carrots, celery and onions and sauté with a clove of garlic. Then add the soaked lentils to the pan, gradually add the chicken stock to the mix until the puy lentils are cooked. Finish with a nob of butter and marjoram
Finally, once the rabbit mix is cooled, ball up the mixture and fold in a triangular puff pastry. Egg wash on top and bake in the oven 10 mins at 200 degrees C.
Toffee apple profiteroles paired with Fingal's Cut Quarter Cask 46%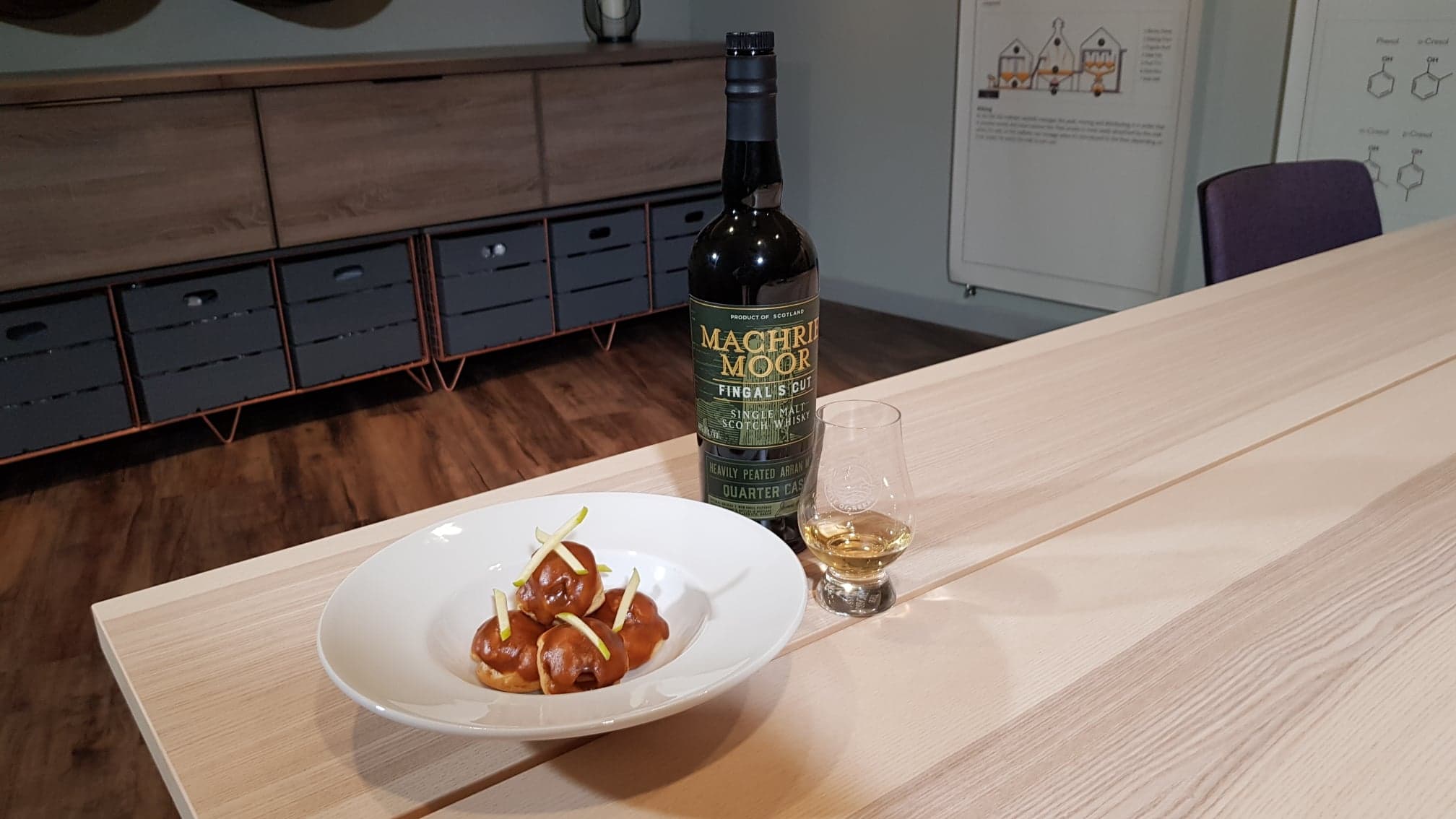 Ingredients
Profiteroles shells
Ingredients & method for the crème patisserie
4 egg yolks
60g caster sugar
25g plain flour
2tsp cornflour
280ml milk
Whisk the sugar and eggs together until light and fluffy. Whisk in both of the flours. Bring the milk to boil and add it to the egg mix. Return to the heat to cook out and thicken. Remove from the heat and place in a metal bowl, cover with cling film to avoid a skin from forming and cool completely.

Ingredients & method for the toffee apple butter
5 medium apples peeled cored and chopped
150ml water
200g sugar
1 tbsp treacle
A very small pinch of cinnamon
Pinch of salt
Bring all the ingredients in a pan and bring to the boil. Cook until it's a thick and dropping consistency, should roughly take an hour. Once ready transfer to a bowl and cool completely.

Ingredients & method for toffee topping
300ml double cream
85g of butter
100g light muscovado sugar
Large pinch of salt

Add all ingredients into a pan and bring to boil. Reduce the heat. Allow to bubble away until the sugar has dissolved and it had slightly darkened. Remove from the heat and cool.

To assemble
• Place the crème patisserie in a piping bag
• Place the toffee apple butter in a piping bag
• Pipe 1/3rd of the profiterole with apple butter
• Pipe in the crème patisserie afterwards
• Dip the top of the profiterole in to warm toffee sauce
• Garnish with julienne apple